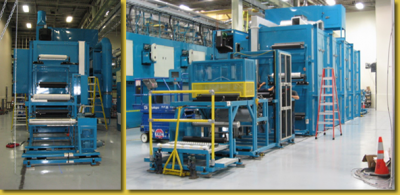 This project, installed in Massachusetts, encompassed the design, fabrication, installation and start-up of a new process line for a web oxidizing process line. This turnkey installation included the web handling equipment, 3-pass and six temperature zone oven and an interactive computer control system. The process required gentle handling of a brittle product and the demanding service of oven operating temperatures up to 752°F (400°C).

The oven was designed with three, ten-meter passes of floatation ovens. Each pass has two temperature and velocity zones and is heated with electric coils. A high-temperature heat exchanger reduces power requirements by over 60% by capturing the waste heat from the oven exhaust to pre-heat the make-up air supplied to each zone. Careful design and consideration of temperature (on the fly) splice heating station, accumulator, web guides and web rewind. The computer interface control system allows for precise control of the entire line and recipe development.
The project was completed on time and on budget, while exceeding stringent performance specifications. Variable speed drives on all fan motors and precise control of each of the six zones result in a flexible process line, which will allow for process changes as well as accommodating new future products.
For over 20 years, Cire Technologies has provided high quality solutions for the converting industry. The close personal coordination of our senior personnel with our customer insures highly effective solutions in the drying and oxidizer fields. Our services can include any and all phases of a project from conceptual design to final design and fabrication through to the installation and start-up. We look forward to applying our experience to solve your unique challenges.