Cire Technologies recently designed, fabricated and installed a new dual feed trolley system for a Massachusetts customer. The trolley system was designed to replace a single forty-five feet long trolley feed system for a horizontal curing oven. By utilizing a dual system, down time between oven curing cycles was essentially eliminated, increasing production throughput by 20%.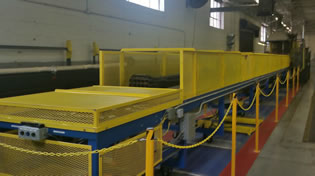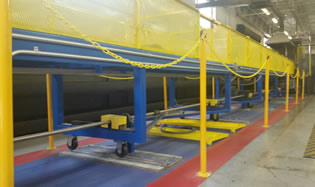 The system includes side by side trolley systems that are chain driven into and out of the oven. After a hot processed trolley is pulled out of the oven, the trolley frame side shifts to align the second trolley with the oven and then automatically feeds the trolley into the oven.
Sensors and PLC controls automate the loading and unloading of the trolleys with minimal operator interaction, including decoupling of the chain drive systems and the trolleys. Side shifting of the entire trolley system is accomplished through a central shaft driving multiple rack and pinons.
All drive motors include variable speed drives for speed control which can be adjusted through the touchscreen control system.