Cire Technologies, Inc. has successfully designed, fabricated and started-up a new custom batch oven for a Massachusetts customer. The oven was delivered completely assembled, requiring very little installation cost.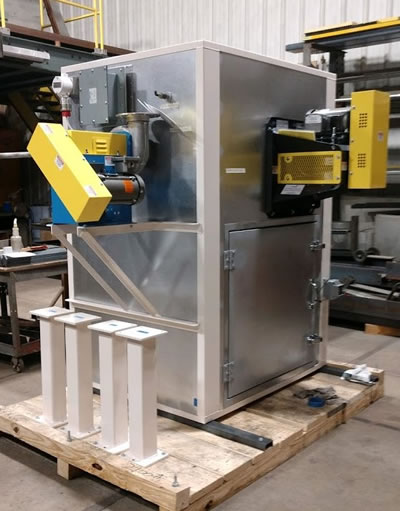 Figure 1 – Batch Oven Ready to Ship
The batch oven is designed to evaporate solvents from ink solids. Characteristics of the oven include:
A vertical configuration to fit into the customer's limited floor space. The original design was for a horizontal configuration, but as the customer determined that space was limited, we were able to modify the design to a vertical unit to accommodate our customer's needs.
Design operating temperature of 300°F, with capability to operate up to 400°
Class 1, Division 2 electric design.
Electric heat with 30 kW of electric coils mounted in the recirculating air stream.
A supply/recirculating fan and exhaust fan are integrated into the oven assembly. Both fans are spark resistant and include EXP rated motors.
A Watlow controller, including ramp control, regulates the oven temperature. The controller utilizes a modulated SCR for tight temperature control.
Fully aluminized steel construction, with four-inch insulated walls, to keep the exterior of the oven cool. Use of perforated metal between wall skins eliminates the potential of exterior skin hot spots.
A Mine Safety LFL monitor to assure safe solvent concentration levels in the oven.
Coil sheath temperature monitoring to keep the coil sheath temperatures below the lowest auto-ignition temperature of the solvents used. These are an added safety we provided for use by the customer until safe operating parameters for the oven are established. Though LFLs should be within safe limits to allow hotter coil sheath temperatures, we felt it prudent to provide this additional safety until the customer established procedures to ensure the oven operated well within those limits.
The oven was supplied with a complete control system, including Allen Bradley variable speed drives on both fans, that enable the process to be optimally tuned.
A batch timer allows the batch to shut down without operators present.
For more information on how Cire Technologies, Inc. can build a custom dryer for you, please click the Quick Connect on the left or complete the Request Info Form found HERE.